Upcoming:


SUNDAY, Nov 10, 2019, 4 - 8PM. Sensory Borrowing, by Arianna Khmelniuk.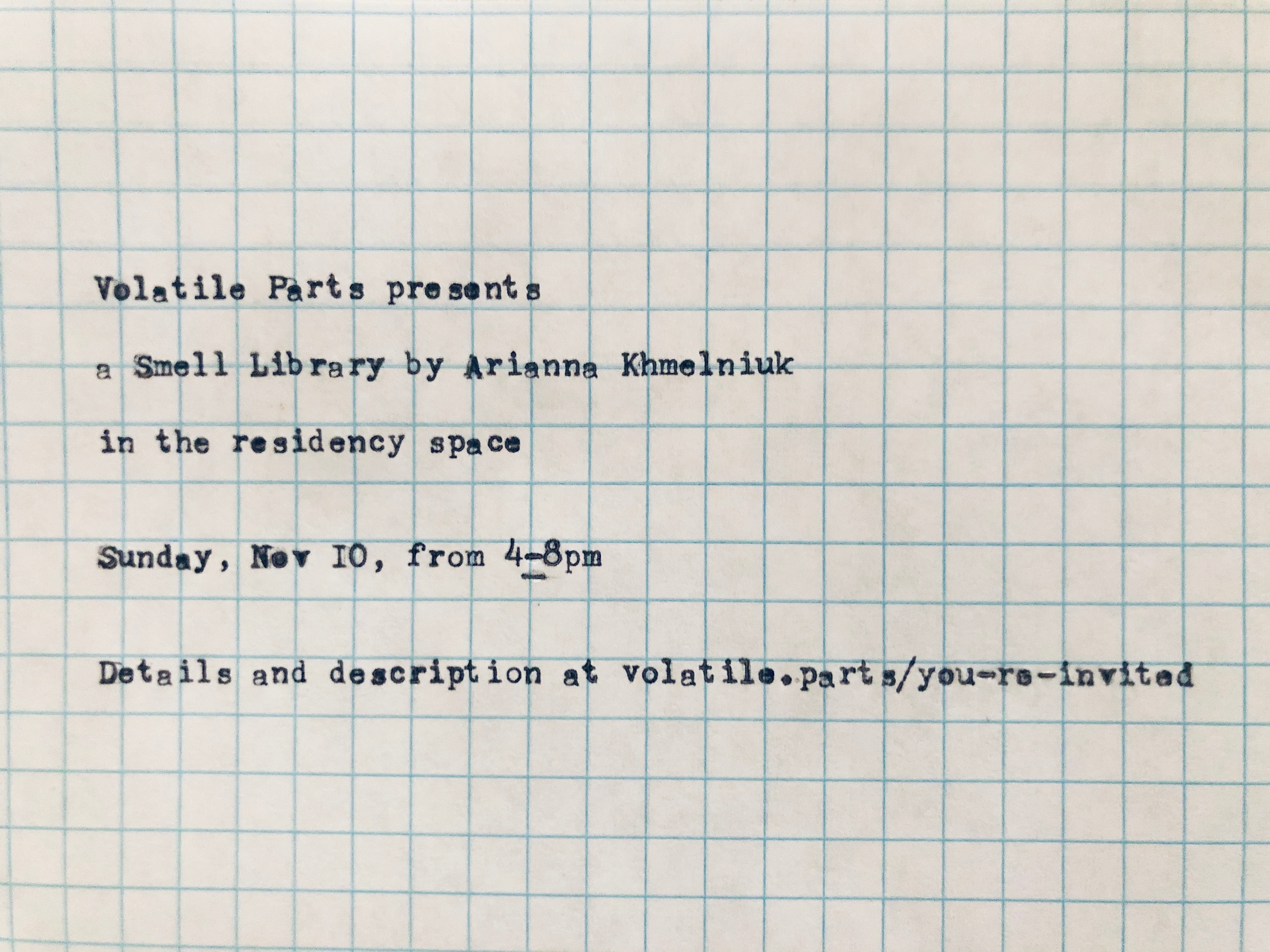 Arianna Khmelniuk, the olfactory artist behind Zapah Lab, asks how we talk and think about smell. How do memories and smell interact, enhance, and overwrite each other? How does language fail us, and why, when we try to describe the evening air? What is inherited, learned? What cannot be taught?

Khmelniuk has conducted olfactory artistic research for several years, with a sensitivity that is both poetic and rigorously analytic. At Volatile Parts, she is externalizing that research, presenting ekphrastic takes on smell, which, cumulatively, emphasize the futility of trying to describe it. The challenge of adequately documenting scents invites comparing them to movement
to years
to nouns
to shapes
to flavors
to textures
to people
to colors
to the place where they are felt in the body
And so, describing scent is surrounded by feelings of enormity and insufficiency, a bit like trying to hand-write the news every day in its entirety.

Come by Volatile Parts on Sunday, Nov 10 from 4 - 8PM for Khmelniuk's Library. There may be a talk. There will definitely be beer (and a dog). We are also collaborating on a publication which will be available for purcha$e at the event. It's cool, and it smells real nice.

1460 Desoto Ave SW
Atlanta, GA 30310

Feel free to share.




Past:

SUNDAY, Sept 8, 2019, 3 - 7PM. Nothing Fits in the Tub, by Jane Foley.


Jane Foley has turned the Volatile Parts studio into a resonance chamber, which will be activated by improvisational performances with collaborator Erin Palovick at 4 and 5:30PM. Jane and Erin will respond to images and performance prompts that "range from the physically impossible to the slightly annoying."

Within a room that listens to itself, conversations of visitors become a musical din, footsteps become possible bass lines.

It'll be a slow, hot, noisy afternoon, with gin, potato chips, cold water, underwater microphones, and friends. As always, all are welcome.

Jane Foley is a sculptor, performer, and sound artist living in Atlanta, Georgia. Her sound works explore isolation versus connectivity in public spaces, beginning with subtle repeated experiments in deep listening and reciprocity. She uses sculpture and performance as frameworks for interaction, favoring communication, experimentation, and process.

Jane Foley has created sound sculptures for the Architecture Triennale in Lisbon, Portugal and La Friche Belle de Mai in Marseille, France with Zurich-based Sound Development City, and produced a sound composition that played in taxicabs throughout the 5th Marrakech Biennale in Morocco. Following a 2017 residency at Atelierhaus Salzamt in Linz, Austria, she has been composing from field recordings and chasing images of transitional sounds in built spaces. In Atlanta, she has created public works for Flux Projects, the High Museum, the Atlanta Beltline, WonderRoot, and the Goat Farm, among others. Foley currently teaches sculpture at Georgia State University while completing an MFA program at the School of the Art Institute of Chicago.

This residency cycle is generously funded by Jason Deck.



SUNDAY, July 7, 2019, 2 - 6 PM. What If Something Happens, by movement artist Claire Molla.



You're invited to Claire Molla's performance, What If Something Happens, taking place this Sunday, July 7 / 2-6 PM. This movement-based work is the product of Claire's month-long studio residency. What If Something Happens asks questions about:

The feeling of being seen
The feeling of being together
How to offer and receive
Wordless negotiation
Intimacy / Intensity / Intimidation
What happens when you give more of yourself than someone wants of you
Where is the middle where we meet

The work will be performed continuously, in many iterations, from 2 - 6 PM. Only one visitor will be invited into the space at a time.

You definitely want to see it. With that said, space is very limited, and it's likely that not everyone who comes out will be able to see the work. In which case, please have a drink, listen to Claire's sound installation, dig into the artist book, and hang out with your buds on a really nice Sunday afternoon. We'll be taking names as people arrive, so if you'd like to see the work, please plan to come early. We're not taking any "advance bookings."

We're also releasing an artist book for sale. The book is a collaboration between Claire, Claire's brother photographer Anton Molla, and Volatile Parts' Jess Bernhart.

Claire Molla works with movement and performance and lives in Atlanta, Georgia. Her work has been presented by the Atlanta Film Society, Dashboard, the Ferst Center for the Arts, the High Museum of Art, The Lucky Penny, and WonderRoot. She is engaged in a performative practice that is both pedestrian and conceptual. Themes that emerge in her research include the social performance of gender and femininity, cultural standards and measurements of beauty, obscuring the distinctions of a performative act, obligatory competition, and ritual catharsis. She makes work for stage, screen, and the site specific.

This month's residency is generously supported by Atlanta-based graphic designer and creative director Sarah Lawrence. This is a free event taking place in a private home.





SUNDAY, May 5, 2019, 3PM - 9PM: A Thousand Todays Are Not Enough: TORI TINSLEY


Tori Tinsley's installation, A Thousand Todays Are Not Enough, is about beginnings that contain their endings. The work is the culmination of Tori's month-long studio residency. Tori created this work in and for the studio space, throughout the month of April, as the first resident of the Volatile Parts micro-studio. A Thousand Todays Are Not Enough will be on view for just one day:

Sunday, May 5, from 3-9 PM.

The centerpiece of the installation is 1,000 cardboard, tape, and canvas roses. We typically give flowers to commemorate major life changes. Usually the recipient of these living objects watches them slowly die, and in this way the gesture contains both beginnings and endings. Tori's flowers are a little grotesque, artificial and clumsy, but eternal - in between life and death. They lie limp on the floor, but they will never be dead. Of course, they'll never be alive, either. They are always-already in an impossible, compromised now.

The installation grapples with dread, preservation, denial, and useless, hopeful gestures.

We are also releasing an accompanying artist book (run of 27), which will be available for sale/perusal.

There will be beer and wine, but feel free to byo-whatever. You're encouraged to stay for a long while. Think of it like a Sunday afternoon barbeque; Tori's work is the grill.

The venue is a private home. Everyone's welcome.